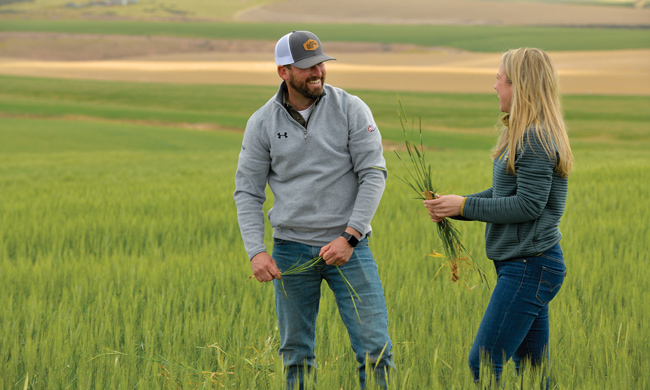 (Wyoming News) Implementing sustainable practices aimed at sequestering carbon, or carbon farming, can help farmers and ranchers increase their bottom line while managing environmental impact in numerous ways, including keeping the soil covered year-round, reducing or eliminating tillage and effectively managing range and pasture lands. Carbon farming practices help farmers and ranchers reap the proven benefits of a conservation approach. That, combined with a new revenue stream available via voluntary carbon programs, offers the potential for better outcomes.
Of the Earth's land surface, 38% is used for agriculture. Capturing carbon in the soil is an affordable and scalable way to cut greenhouse gas emissions in the atmosphere while nurturing healthy, secure and sustainable food systems. Through soil carbon sequestration, farmers and ranchers can become leaders in limiting the effects of climate change while enriching the land's livelihood.
Implementing practices that meet operational needs, and ultimately sequester carbon to generate carbon credits, allows ranchers and farmers to create additional income, lower future management costs and improve soil health, resulting in enhanced yields, cost savings and more resilient, healthy fields and pastures.
Working closely with farmers and ranchers across the United States, Agoro Carbon Alliance helps implement sustainable practices like these, which bolster natural soil fertility and can also generate carbon credits and new revenue streams.
No-Till and Reduced-Till Farming: Reducing or eliminating tillage minimizes disruption to the soil and reduces carbon emissions. When soil is tilled, it releases carbon stored within the ground into the atmosphere. Moving an operation to reduced till or no-till practices not only offers benefits to soil quality but can also play a role in mitigating soil erosion, as well as reducing fuel and labor costs.

Cover Crops: Cover crops improve soil health and help keep carbon "locked in" while preventing nutrient loss and erosion in fields. Developing an effective and profitable cover crop strategy is one way farmers partner with Agoro Carbon Alliance. Backed by a team of highly trained agronomists that collaborate with producers, their team of local agronomists work one-on-one with producers to build a cover crop strategy that best suits each unique operation and keeps soil thriving year-round.

Interseeding: A related and valuable approach to soil protection and carbon sequestration is interseeding. This occurs when a new crop is planted as a cover or companion in a field where an existing crop has reached vegetative growth. Interseeding increases the number of plants in the soil, resulting in more roots, which promote more efficient biomass and carbon sequestration.

Rotational Grazing and Grazing Management: Controlling livestock grazing patterns can be advantageous for animal health, as well as the soil and pasture quality. Moving animals from one pasture to another on a systematic basis provides greater control over the quality of the forage, allowing plants to deepen root systems, which enhances the soil's biomass and supports more efficient carbon sequestration. Rotational grazing also prevents the soil from becoming excessively compacted by animal movement and allows ranchers to distribute natural manure fertilization more evenly.

Nitrogen Management: Strategically managing how and when nitrogen fertilizer is applied can both increase crop efficiency and yield potential while reducing environmental impacts associated with nitrogen fertilizers. Judicious use of nitrogen-containing fertilizers can help optimize carbon storage, boost yield potential and improve forage.
Soil conservation practices can drive productivity and add a new revenue stream for farm and ranch operations, as well as generate carbon credits. Learn more about sustainable agriculture and carbon cropping at agorocarbonalliance.com.




SOURCE:
Agoro Carbon Alliance