BILLINGS TRAIL NEWS – The. Wait. Is. Over. The short and sweet yet critical S 32nd St W arterial connection trail between King Ave W and Gabel Rd is OPEN and READY for running, riding, rolling, and strolling!
As part of the Billings Area Bikeway and Trail Master Plan, this trail contributes to the safer and greener connection between people and places in this lovely town we call home. It also provides recreation and active transportation opportunities for the underserved neighbors in the community.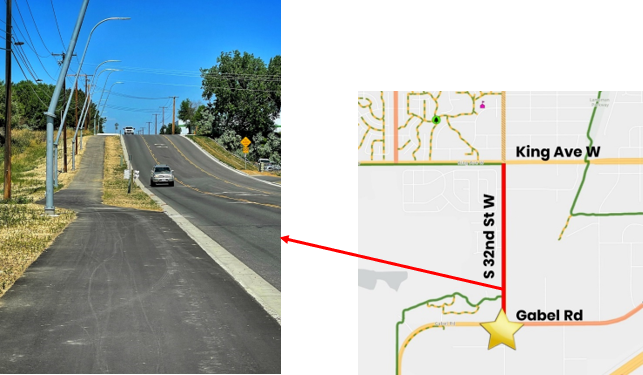 What better day to celebrate this connection than Friday, Sept. 9: Ales for Trails day!
The City of Billings and Billings TrailNet invite you to join the celebration on the trail at 11 am! Mark your calendars, Trail Enthusiasts, for this joyful occasion. We look forward to seeing you at 11 am on Friday, Sept. 9, 2022, for a ribbon-cutting ceremony on the corner of S 32nd St. W and Gabel Rd. The winner of a friendly race will pocket a pair of Ales for Trails tickets generously donated by Billings TrailNet. Next, celebrate trails at Billings TrailNet's biggest fundraiser of the year, Ales for Trails, at 5 pm at ZooMontana.  Tickets to the event will also be available for purchase at the ribbon-cutting celebration.