On July 28, 2022, the Los Angeles Police Department's Wilshire Division responded to a local protest that resulted in three arrests for felony vandalism.
On July 28, 2022, around 12:00 p.m., a group of about 25 protesters gathered outside a local museum in the area of Wilshire Boulevard and Ogden Street. The protest supported the group 'Rise Up 4 Abortion Rights'. During the protest, two female protesters chained themselves to the light pole of an art exhibit, damaging the exhibit itself.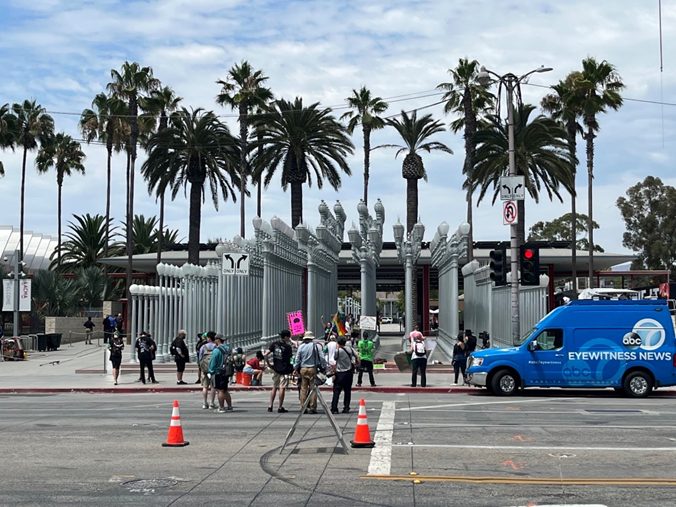 One male protester threw an unknown red liquid substance on the art exhibit and surrounding area. LAPD made multiple attempts to contact the group of protesters, who refused to leave the area. Around 3:25 p.m., officers issued a dispersal order. Around 4:00 p.m., a second dispersal order was announced. The crowd refused to leave the area.
At 4:10 p.m., uniformed resources, along with Metropolitan Division officers, effected the arrest of the two females and one male for felony vandalism. At 4:30 p.m., the area was cleared of all protesters without incident.
Below is the booking information for the felony vandalism arrests made during the protest.

Name: Gorman, Sean David
DOB: 3/21/2000
Residence, Upland, CA
Charge:594 PC
Booking Number 6428291
Bail: $20,000

Name: Bourn, Leilah
DOB: 5/28/2002
Residence: Los Angeles, CA
Charge:594 PC
Booking Number 6428310
Bail: $20,000

Name: Eggers, Victoria
DOB: 5/25/1993
Residence: Westminster, CA
594 PC
Booking Number 6428287
Bail: $20,000