[ad_1]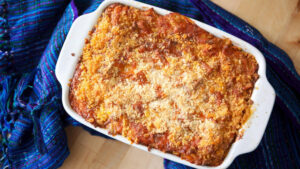 If you're looking for a comforting dish to bring the spirit of your Ashkenazi ancestors along to your upcoming Fourth of July picnic, I've got the kugel for you.
The journey to this recipe started from a very non-Jewish place––the Kentucky Derby. I don't know about you, but generally abusing horses to run in a circle for the unlikely chance to win a piece of the $3 million purse doesn't strike me as a very Jewish thing.
Some friends who used to live in Louisville, Kentucky were hosting a little get together for the occasion. Rather than morosely remind attendees that so much as a twisted ankle might get the horse euthanized, I decided to make the most of it by bringing a homemade dish. But what to make?
Mac and cheese is, for better or worse, a go-to staple of Southern cuisine. I thought of other go-tos of the Southern palate, like barbecue sauce and bourbon. Remarkably, I couldn't find a recipe that blended all of the above. In an era when hundreds of years worth of varying culinary traditions are often thoughtlessly blended together in the name of fusion, I was surprised.
So, I set out to make my own recipe. I started with inspiration from Jake Cohen's Jew-ish cookbook. Among his kugel recipes he includes a cheese kugel with rosemary and thyme––and it really makes the dish stand out. They're two spices that pair nicely with smoky flavors, like certain smoked cheeses and barbecue sauce.
In the recipe they went.
Next, I turned to the Internet and YouTube for different ideas on how to build my cheese kugel. For ease, I went with starting a roux (butter and flour cooked together) before layering it with cream, bourbon, and then barbecue sauce. Everything goes into the same pot or skillet.
Then come the cheeses. I'm a fan of mozzarella and cheddar, which happen to be commonplace in mac and cheese or cheese kugel recipes anyhow. What was missing from this recipe was a smoked cheese. I opted for gouda, but as long as you keep the proportion of cheese to noodle the same, you can experiment to your heart's content.
Speaking of noodles, I use wide egg noodles, which are common with kugels. Once everything is mixed together, add a couple of eggs to help bind everything. Then, cover the dish with matzo meal and even more cheese before throwing it into the oven until the top gets crispy golden brown. Serve and await the flood of praise as friends pick out the different flavors of cheese, rosemary, barbecue sauce, and notes from your bourbon of choice.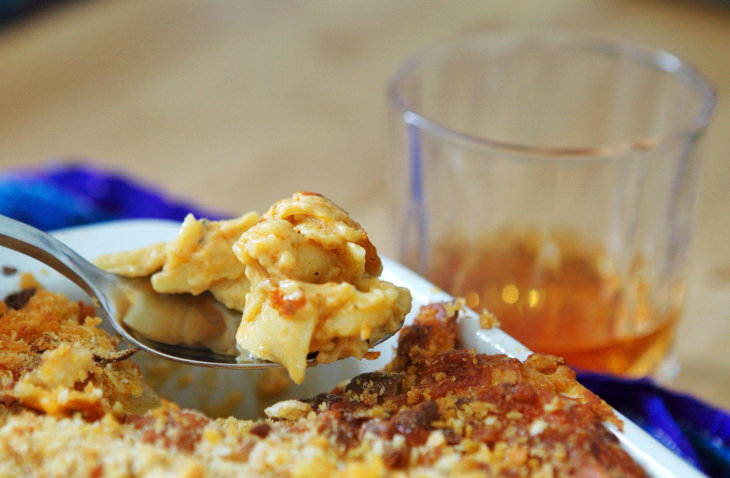 Prep time: 30 minutes
Cook time: 35 minutes
Serves: 8
INGREDIENTS
Kosher salt
225 grams (2¾ cups) cheddar cheese
112 grams (1¼ cup) smoked gouda
112 grams (1¼ cup) fresh mozzarella cheese
45 grams (6 tablespoons) all-purpose flour
76 grams (⅓ cup) unsalted butter, plus more for greasing the baking dish
295 ml (1¼ cup) milk
160 ml (2¾ cups)cream
1 teaspoon rosemary
½ teaspoon thyme
½ teaspoon cayenne pepper
¼ teaspoon nutmeg
⅓ cup BBQ sauce
⅓ cup bourbon
2 large eggs
255 g (9-ounces) wide egg noodles
¼ cup matzo meal or panko
PREPARATION
Start by cubing your mozzarella and shredding your cheddar cheese and smoked gouda. Keep to the side. Then combine milk and cream in a measuring glass.
Fill up a large pot with water and place on the stovetop, covered over high heat. Move on to the next steps while you wait for it to boil.
Begin your roux by melting the butter over medium-high heat in a large skillet or dutch oven. Once the butter starts to sizzle, lower to a medium heat and slowly add in your flour, whisking thoroughly for 1-2.
Once the flour smells toasty, slowly whisk in your milk and cream mixture. Keep whisking until it thickens. This should take around 5 minutes.
If your water is boiling by now, salt the water generously with kosher salt and add your egg noodles for about 8 or 9 minutes.
Start preheating your oven to 370°F.
Turn your attention back to your roux. Add your bourbon, continuing to whisk thoroughly while it simmers and burns off some of the alcohol. As it simmers, add your seasoning of rosemary, thyme, cayenne pepper, nutmeg, kosher salt, and freshly ground black pepper. Once the seasoning is incorporated, add the barbecue sauce and continue whisking until it starts to thicken again, about 5 minutes.
Lower the heat so that the mix is no longer simmering. Switch out your whisk for a straight spatula. Gradually add in the mozarella and then the smoked gouda and cheddar cheese. Save some of the smoked gouda and cheddar for topping. Stir for about 5 minutes until everything is melted and gooey.
When your egg noodles are just about al dente, add them into your cheese mixture. Remove the dish from the heat and combine everything together. Allow it to cool down enough that you could comfortably put your finger in the middle. Then, add your eggs and mix vigorously.
Once your kugel is ready, place into a greased baking dish and use the spatula to flatten/smooth the top. Cover/sprinkle the remaining shredded cheddar cheese and smoked gouda along with matzo meal or panko.
After the cheese is evenly coated on top, place the baking dish into the 370°F preheated oven for about 35 minutes until crispy golden brown.
Let rest for 10 minutes before serving.
The post BBQ Bourbon Cheese Kugel Recipe appeared first on aish.com.
[ad_2]
Aish.com is an online Jewish Newspaper. Aish is a news partners of Wyoming News.