[ad_1]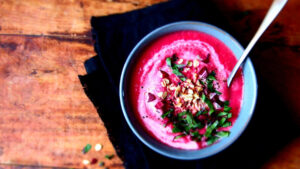 For years borscht soup has been as obsolete as the so called 'Borscht Belt' Catskills resorts. How come then beet soup has found its way onto restaurant menus and can be spotted in gorgeously styled recipe books and food magazines, especially when Valentine's Day isn't approaching? Has Eastern European cuisine suddenly become uber-cool?
No it certainly hasn't. The reason for a borscht comeback lies mostly in its bright jewel-like color. The very same color that causes kids to wince when a bowl of beet soup is set in front of them. The shade can be described as an intense purply-pink or soft rose, depending on whether the sour cream is blended in or left as a blob on top.
Research by Mintel, the global consumer trend and market statistics company, has found "millennials are attracted to brightly colored food and drink due to their desire to create visually appealing images." Tel Aviv based food stylist and photographer, Raella Budow also believes social media is the driving force behind many food trends. "We are living in an age of food porn. Many people have sharp visual awareness and know exactly what foods are going to make the most impact on their Instagram feeds or stories." Beets are one of them.
The pink trend started in 2016 and moved slowly from the runway into interiors, product design, branding then finally jumping to food. Think pink Himalayan salt, pink gin, rose wine and ruby chocolate. The color even received an official name, Millennial Pink, coined from an essay in The Cut magazine written by journalist Veronique Hyland. The piece went viral and her generational name for the color has stuck. Generation Z also received its color, Gen-Z yellow, but there's a clear consensus that it has nowhere near superseded Millennial Pink.
Mintel lists beetroot, alongside radishes and pomegranates as being increasingly popular on US menus since 2020. The trend, they report, is not only social media driven but is also connected to the healthy living craze. With its high percentage of vitamins and minerals per gram, beets made it easily onto the superfood list. Its nutrients include potassium, betanin, magnesium, folate, Vitamin C and nitrates which help in reducing blood pressure and anemia and improve the body's circulation and brain function.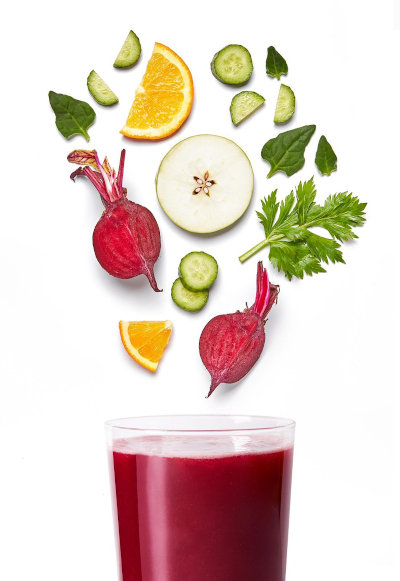 Ad for freshop chain of fruit juice bars Photography: Tal Sivan Ziporin Styling: Raella Budow
Vegan chef Alon Mor, who runs online healthy eating workshops for children and caters for retreats and events, says the beetroot stalk and leaves should not be discarded but chopped up and used as they contain even more vitamins and minerals than the root itself. He says he loves beets as they don't lose their brightness when cooked, have a rich, earthy taste and are versatile. His favorite dishes are a beet tapenade made with black olives and capers (that can also be used as a pasta sauce and beet patties) with vegan tzatziki.
If the intense color of beetroot soup still does not appeal, there is always the option of using the less common yellow beet. Mor says it has a beautiful golden color, delicate taste and best of all you don't stain your hands when working with it.
Learn more about the Jewish history of borscht and get recipes here.
There's more to beetroot than borscht: 8 ways to use beets every day.
Turn hummus or tahini a gorgeous pink by blending in steamed beetroot or adding beetroot powder
Make naturally colored rainbow challah bread by adding a few drops of natural food colorings. Beet water for red, spinach water for green and turmeric powder for yellow.
Make red velvet cakes with real beets and not just red food coloring as a far healthier choice.
Switch to vegetarian beet taco meat for Taco Tuesdays
Beet chocolate bundt cakes are moist and can be topped by a beautiful, naturally colored beet glaze. Get the recipe.
Adding orange slices to your raw beet salad will make the color pop even more.
Beetroot make a fabulous carpaccio sprinkled with mint, pomegranate seeds and a dusting of sumac.
Beetroot can be turned into pesto made with beetroot, cashews, tofu and roasted garlic.
The post How Instagram Brought Back This Nostalgic Soup appeared first on aish.com.
[ad_2]
Aish.com is an online Jewish Newspaper. Aish is a news partners of Wyoming News.